Peter Emmett, Managing Director of Emmetts is pleased to announce the launch of Emmetts Irrigation.
"Valley Irrigation, owned by Valmont, is a global leader in Centre Pivot and Lateral irrigation systems. They approached Emmetts to be a dealer for their full line of products, due to Emmetts scale, staff's expertise in agriculture, and Emmetts ability to serve irrigation customers across a large geographic area. Emmetts is committed to providing the machinery, technology, parts and service to keeping farmers farming. Currently serving customers across Western Victoria and a large percentage of South Australia, many of whom are irrigators, it seems like a natural expansion opportunity to take on a global leader in irrigation equipment and apply our precision agriculture knowledge of the various production systems, coupled with our large parts team and service department knowledge. I couldn't be happier to launch Emmetts Irrigation across multiple Emmetts locations."
For the Centre Pivot and Lateral irrigation customer, Emmetts have a service team which have just started and are based out of Murray Bridge, with a service and build crew of three, and a parts and admin support person, Emmetts Irrigation will keep you farming. The first shipment of parts has arrived in Murray Bridge and they will be further distributed out to Renmark, Pinnaroo and Horsham branches. Emmetts Irrigation will carry a large range of parts that are retrofittable to most North American made irrigation systems.
Avril Hogan, Group Strategy Manager said "This is a really significant change for the irrigators in some regions, to have Emmetts Irrigation as a second local option as an irrigation supplier, particularly in remote locations. Irrigation supports growers productivity, and technology is critical to maximise return on investment for their businesses. With the variable availability of water coupled with the cost, ensuring the best water use efficiency is key. For the long term, the investment in pivots or laterals brings huge yearly production gains, while providing long term stewardship benefits to the land and water stores. Having travelled the technology adoption journey with famers in their machinery, from GPS autosteer, variable rate seeding and chemical spraying to Artificial Intelligence changing combine settings while harvesting, Emmetts are excited to continue the technology journey through the precision irrigation technology Valley offers."
Emmetts Irrigation is committed to the customer. The sales and service team will be on the road, visiting customers, introducing themselves and they will have replacement parts in their utes when they call in. Once the business is staffed and launched, the service technicians will be on call for round the clock support.
Emmetts understands the specialised nature of irrigation, and the time-sensitive requirements for service or parts. The decision was made to offer this line of products under a sub-brand, Emmetts Irrigation. Customers will see a new logo on the uniforms and utes, and the new staff will work exclusively in Emmetts Irrigation. The Emmetts team have developed a specialised website, www.emmettsirrigation.com.au, packed with information on the Valley machinery, hardware and software available. Valley parts will be added to Emmetts online shop for convenient parts ordering Australia wide.
Matt Burns, Group Precision Ag Manager said "Valley Irrigation compliments the Emmetts Precision Ag and AGree Precision Agronomy departments. Valley are the leaders in precision irrigation, utilising telemetry, GPS positioning, variable rate technology and advanced software management and analytical tools. We can leverage our current expertise in precision technology and precision agronomy, along with our current digital tools and services to offer an enhanced service, with support and advice, on soil mapping, water flow modelling and variable rate irrigation plans. Like Emmetts, Valley are continually investing and evolving in the precision agriculture and digital ag space, and I am excited to see the evolution of Precision Irrigation."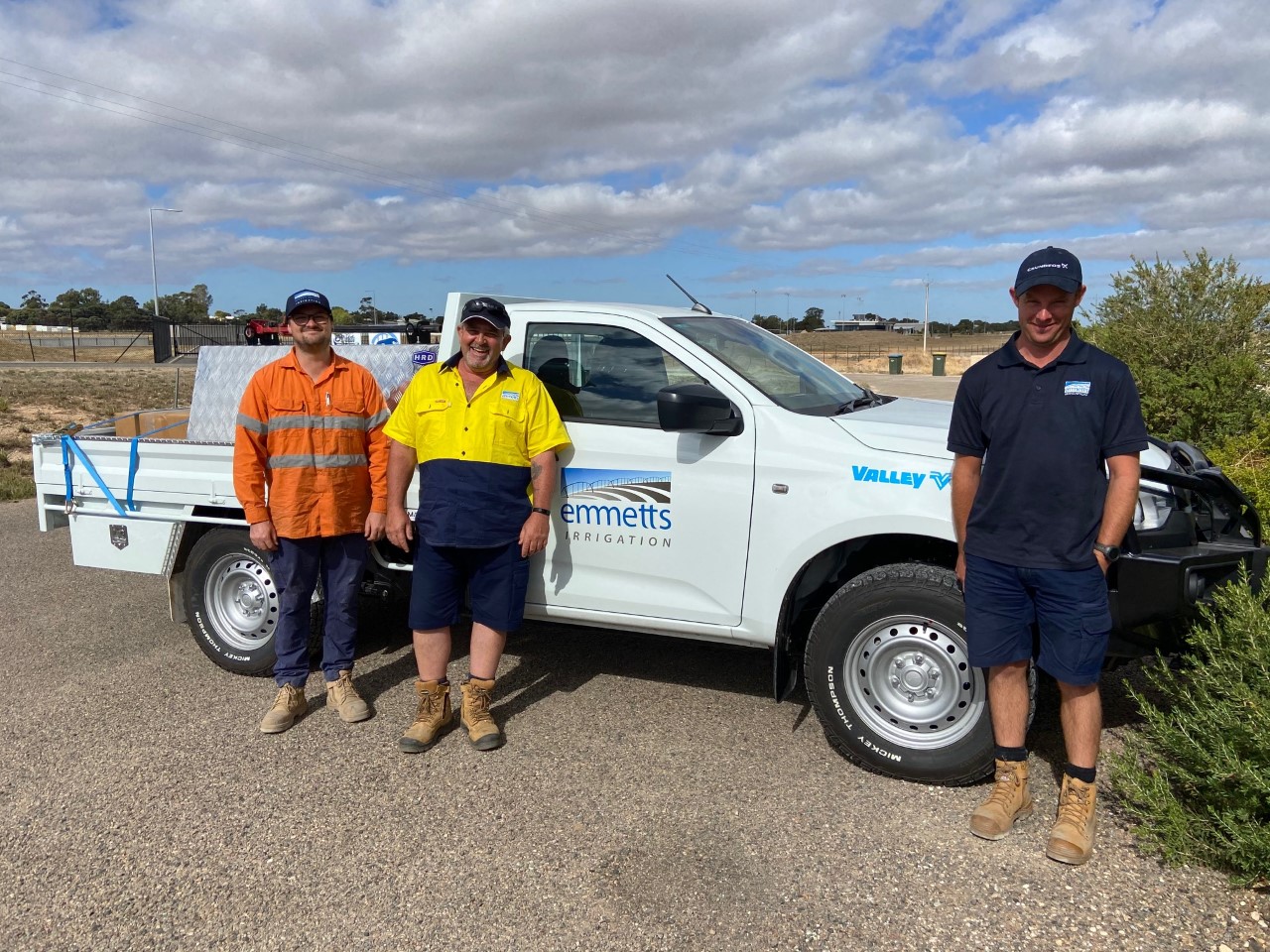 The service team consists of (left to right) Brandon Bourke, Paul Philpott, and Peter Waters. The team can design and build any custom project you have.

Peter Waters, Service Technician and Technology Specialist. Prior to joining Emmetts Irrigation, Peter worked for AusRain in Murray Bridge for five years, and prior to AusRain worked for a pump retailer. With over 10+ years experience in irrigation specifically pivot and lateral irrigation systems Peter is leading the service/build team to provide for all of the customers service requirements. Peter has a strong interested in the technology on offer through Valley and the automation and soon to be released irrigation scheduling. He will be working out of Murray Bridge but covering a large area across the Felurieau Peninsula and up through the Mallee.
Paul Philpott, Service Technician. He is the pump man with decades of experience working on pumps and water flow, he is rounds out the team to provide full service from the pump up. With experience across ground water, river water, and lake water pumping to rainwater harvesting. Working with the pipe work in irrigation pivots and laterals rounds out the full production system that he can assist with, to keep your crops watered as planned. With a background as a service manager he understands the importance of communication and clarify when explaining the repair work and associated costs. Local to the Adelaide Hills area we are happy to have Paul on the Emmetts Irrigation Team.
Brandon Bourkem Irrigation Service Technician
We are so excited to have Brandon join the team to launch Emmetts Irrigation. Brandon comes with a wealth of knowledge in instillation of large infrastructure projects including for the NBN and telecommunications networks including civil works such as trenching and ground works. His strengths are in implementing the building plans and making on the ground decisions to ensure a positive outcome for the customer and ensuring that the work is completed to plan to s=ensure reliability for the long term. Brandon has studied and done training across a range of things from dump truck and excavator driving to dealing with pit and pipe work to irrigation. We welcome Brandon and look forward to seeing his career at Emmetts develop.
Alice Caldecott, Service Administration & Parts Interpreter
Alice joins the Emmetts Irrigation team from AusRain. Alice grew up in the irrigation industry and is excited to support the service department in scheduling and customer contacts. She will also be managing the parts inventory and ensuring that customers across the entire Emmetts region have access to parts when they need them, to keep them going. Expect a friendly call from Alice to introduce Emmetts Irrigation to growers in the area, and a regular call to find out what parts you need, or if a service is required for maintaince rather than wait until it hits breakdown stage.
If you would like to know more contact 1 300 163 439 or visit www.emmettsirrigation.com.au 

Valmont owns Valley Irrigation and was started in 1946 in Nebraska USA. Valmont sells irrigation equipment globally and has its Australian head office in Brisbane, Queensland. More information on Valleys history can be found on http://anz.valleyirrigation.com/