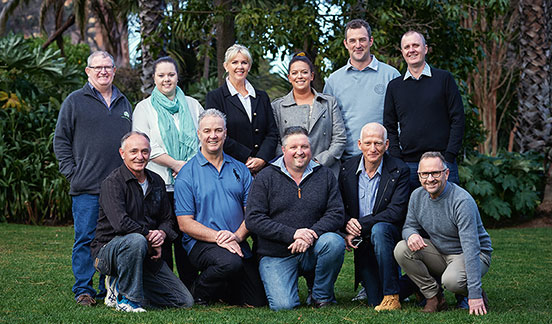 Farm Tender is an online buying and selling marketplace for Farmers and Associated Agricultural Businesses.
Founded by former Farmer, Dwain Duxson in August 2011, on starting the business Dwain identified that buying and selling was heading online and he wanted to create a platform that combined that with next-level customer service. Farmers love hearing a human voice and that's what we strive to do at the highest level. Dwain currently lives in Melbourne.

The Farm Tender model has evolved since conception where it was predominantly a buying service for farm inputs. Farmers kept asking, "why can't I sell items on it", so we decided to head in that direction and it's grown for zero members back in 2011 to over 49,000 Farmer members today.

Farm Tender has added a few new enterprises to the organisation, namely the Prime Ag Centre (PAC), Farm Tender Auctions, DelayPay, Farm Tender Livestock Exchange an Ag News section, a members group and an advertising platform.

Dwain now works mainly on developing the DelayPay business

Paul Grayling from Kerang, (Vic) joined Farm Tender in early 2015. Before joining the Farm Tender Sales team, Paul worked in Rural Merchandising for 5 years. Prior to that worked in Pubs and an orchard in the Yarra Valley. Paul has moved around the country playing AFL football but has settled in Kerang and still coaches football locally.

Ellen Garland from Ballarat, (Vic) has shifted from Farm Tender across to the PAC in the Admin department. Ellen, who started in April, 2015 has worked within Agricultural Business Administration Management for the past fifteen years. Ellen decided that working from home full time was a win/win situation, she can be a part of a dynamic work environment and be home with her young family. Since starting with the company Ellen has had a passion for improving and streamlining the business processes.

Shane Ruyg from the Sunshine Coast (Qld) is a key member of the Farm Tender sales team. Before that Shane worked in the Training Industry (VET), teaching Agriculture in both Cert III & IV for five years. Before this, he was involved in the Chemical and Irrigation industries. Shane was also a very good country AFL footballer and had a long and distinguished career. Shane lives in Merbein with the lovely Megan (see below) and they have plans to one day move to Queensland.

Megan Ruyg from the Sunshine Coast (Qld) is part of the Admin team and joined us at Farm Tender in April 2016, prior to this Megan worked in the Community Health sector for nine years as Team Leader, Client Services which consisted of; Frontline, Health Records, Client Management Systems and Service Agreement Targets. Megan has a passion for good Customer Service and promoting a positive, helpful and friendly environment.

Mike Pickard from Goondiwindi (Qld) is part of the Farm Tender sales team. Mike is an Agricultural graduate at Marcus Oldham college. He has owned and managed large Pastoral holdings in North Western Qld, also managed a 15,000 acre, zero-till Cropping operation at Goondiwindi. In the last ten years before starting with Farm Tender Mike worked in the Ag Machinery assembly-repairs field, as a crane Truck operator and escort/pilot vehicle operator with the Case Dealership in Goondiwindi. Mike loves both Rugby Union and Rugby League and does profess to know a little about AFL.

Jim Oehms from Bendigo (Vic) joined Farm Tender in January 2019 and is part of the Prime Ag Centre (PAC) sale crew. Jim grew up in Melbourne and spent most of his time as a Service Technician in a couple of different fields which later turned into Sales positions. Jim moved to Bendigo twelve years ago and spent about seven years in the waste/recycling/environmental industry before making the move into the Agricultural Industry.


Jackie Elliott from Byaduk (Vic) has worked in rural merchandise stores across the Western District for almost ten years before joining the Farm Tender in March 2020. Jackie is committed to building client relationships and providing long term support. Jackie's family farm is at Byaduk and she lives with her partner Dan who also farms locally. Jackie is passionate about supporting her local community and has organised successful events in the district celebrating rural & regional women.
Emma Withers from Glen Innes (NSW) is part of the Admin team and joined Farm Tender in May 2020. After graduating from University, Emma worked in Western Australia as a Landcare Coordinator before moving back to the east coast where she has worked in Finance and Administration roles for the past fifteen years. Emma has a passion for all things farming and agriculture, along with providing a high level of customer service to our members.
Kelsey Miller from North Fitzroy (Vic) has over 15 years of banking and financial services experience. He's also actively involved in his family's beef business, located in North East Victoria in the Kiewa Valley.
Hannah Anderson from Kilmore (Vic) was born and bred on a large sheep and beef property in Tooborac in Victoria. Early in her career, Hannah worked as a Jillaroo, which led her to pursue further study in Farm Management and Agribusiness at Marcus Oldham College. Hannah began her professional career in the Agribusiness finance sector, and this spanned several years and provided a wide range of experience in terms of farming operations over many different farming regions of Australia. She and her partner Dave now run a breeding operation in Kilmore, Victoria. Her personal Livestock experience gives her an insight to current market and seasonal conditions, arming her to help producers with new and different marketing options. Hannah heads up the Farm Tender Livestock Exchange.
Farm Tender is committed to providing its members with the highest standard of customer service and willingness to go the "extra step" to help.
Please contact one of the friendly team for more information.