Pepperton Poll Dorset & White Suffolk Stud

5th Annual Pepperton Ram Sale - Wednesday the 30th of October @ the Elmore Events Centre (see flyer below)

Follow us on Facebook
here
About Pepperton Poll Dorsets

Pepperton rams are produced on predominantly dry land lucerne with minimal grain feeding during dry times, so they are ready to work at point of sale. Elite Sires are used by AI to maximize genetic gain within the stud resulting in Trait Leaders for Growth, Muscling and Moderate Birth Weight. At Pepperton rams are also tested to provide accurate LEQ, a new index incorporating lean meat yield and eating quality with no emphasis on birthweight. Approximately 200 rams produced annually with ewes over 200 Cascase Plus Index being kept in the flock. Pepperton have been using Lambplan since 1997 to achieve a Gold Standard of reporting resulting in a high figured stud well above the national averages.

About Pepperton White Suffolks

Pepperton rams have consistently tested high for Muscling and Growth with Moderate Fat and Lower Birthweights. Data is collected by 7 months of age as this is normal selling time for lambs. Our production has a high incidence of twinning with 150% weaning the norm. AI is used to inject industry-leading genetics into the flock to maximize Genetic Gain. Approximately 100 rams produced annually. Pepperton have been breeding and producing top quality White Suffolk sheep since 2004 in answer to demand from producers.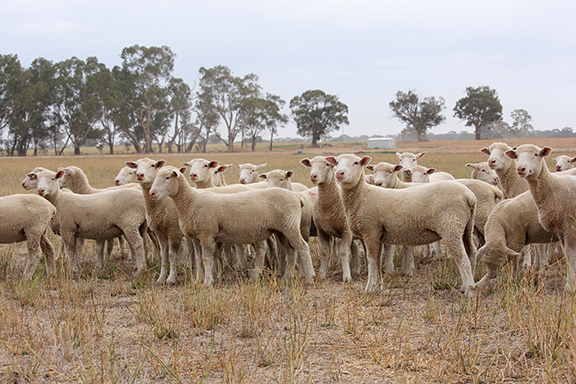 Pepperton Farm Stays
Pepperton Homestead offers self-contained farm stay accommodation for up to 14 guests just 3kms from Elmore Township with four bedrooms and three bathrooms.

Perfect for couples, families and groups. The property also includes a cosy fireplace, air conditioning for the summer months, ceiling fans in bedrooms, BBQ facilities, laundry facilties, and a television, DVD & CD player. This traditional homestead has a wide country verandah surrounded by beautiful gardens.

Surrounding the homestead, you will be amazed by the open rural landscapes & stunning sunsets. In the colder months, guests can sit around the specially prepared campfire and toast complimentary marshmallows and in summer months relax in the beautiful surrounding gardens, all year-round star-gazing at beautifully clear night skies.

Pepperton Homestead makes a great family escape and children are most welcome to engage in some farm activities if desired and subject to availability.

Farm Activities for those that wish can include:
* Farm tour with Farmer Roger
* Helping to bottlefeed baby lambs
* Watching the shearing (at appropriate times)
* Holding a baby chicken, duckling, gosling or lamb (subject to availability)

Pepperton Homestead is available year round for couples, families or groups up to 16. Tariffs begin at $150 for 2 guests in one room.

The Fernery Suite @ Pepperton is a stylishly furnished and modern one-bedroom unit, just 3km from the township of Elmore. The unit has a private entrance, ensuite bathroom, separate shower, comfortable lounge area (with fridge, microwave, toaster and kettle) and a relaxing garden dining area.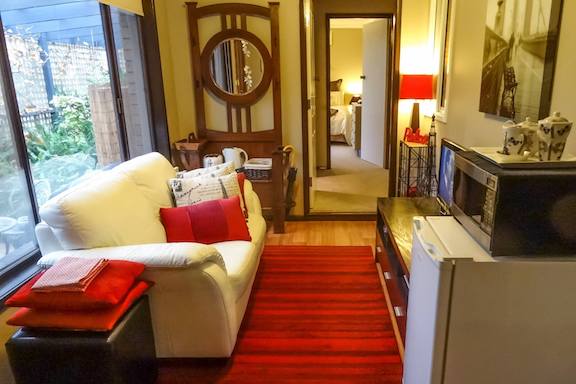 The Fernery Suite is the perfect base for a couples visiting the area or as a stopping off point for a longer trip.

Both the Pepperton Homestead and The Fernery Suite are located on a sheep farm in Central Victoria, guests are invited to experience rural life and visit the farm animals with hosts if they wish and/or simply enjoy the beautiful surrounding garden.



Continental daily breakfast is provided as well as a complimentary bottle of wine upon arrival and tea/coffee making facilities.




The property is situated only 5 mins drive from the township of Elmore, which is home to charming galleries, award winning bakery, cafe, take-aways, hotels serving high quality meals, chemist, newsagent and IGA supermarket.

Elmore is ideally located midway between Bendigo and Echuca – it takes only half an hour to reach either of these historical regional cities. The Wine Regions of the Colbinabbin Range and Heathcote are also only a short drive away.

Guests are welcome to pick and eat fruit straight from the trees and there is a BBQ and garden sitting area available to you. You will be amazed by the open rural landscapes & stunning sunsets surrounding the property.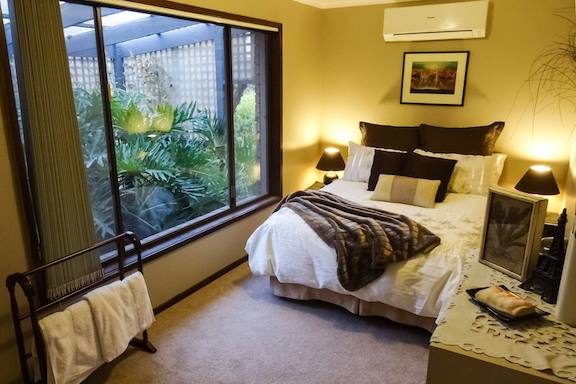 In the colder months, guests can sit around the specially prepared campfire and toast complimentary marshmallows and in summer months relax in the beautiful surrounding gardens, all year-round star-gazing at beautifully clear night skies.

Located at 327 Elmore-Minto Road Elmore, VIC 3558
For bookings contact: Dianne & Roger Trewick – from 7am-8pm all week


M: 0408 468 820

See our Facebook page

here